About The Capes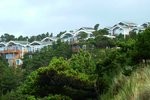 The Capes, in Oceanside, Oregon, is a planned, gated community of single family homes, townhouses and cottages located on the Oregon Coast.  To the west is the beautiful Pacific Ocean and to the east is a sea of natural greenery and rolling hills.  Our amenities include direct access to the beach, a Bridge House for social gatherings and meetings, tennis court, bocce ball lawn and a picnic area.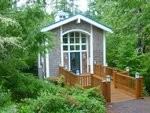 All homeowners are members of The Capes Homeowners Association.  Our association is managed by a seven person board of elected directors.  Adhering to our governing documents of by-laws and CC&Rs, the association strives to maintain (and enhance) property values in a safe and beautiful environment. We believe that the enjoyment of homeowner property, positive social interaction, as well as high construction standards, maintenance and appearance are key factors in contributing to the success of The Capes.
The Capes Mission Statement
As residents of The Capes, we belong to a community seeking natural beauty in a coastal living experience.  The Capes means living in perfect harmony with the salt air, lapping waves, cool breezes and undisturbed tracks in the sand.
As owners, we are committed to protecting and preserving the natural terrain and wild life in the surrounding environment.  We respect the governing rules of our community which protect the investment we have made in our homes.
We strive to leave all worries and outside demands at the entrance gate.  Once inside, we reconnect with ourselves, our family and friends, and this beautiful setting in which we live!
1992